HOME PAGE
Attention!
Imams of the Mosque receive parishioners regarding personal matters and to perform rites (Nikah, name giving, adoption of Islam, funeral prayers, etc.) EVERY DAY! No appointment necessary! Seven days a week! From 10:00AM to 6:00PM.
Marriages (Nikah) between Muslim men and non-Muslim women are not performed in the Historical Mosque of Moscow.
Jum'ah (Friday) Namaz in our mosque begins at 12:40 PM. Arrival at Friday prayers on private vehicles is not possible due to the closure of Bolshaya Tatarskaya Street during this time.
Live video broadcast from the Historical Mosque (The Old Mosque) of Moscow launched.
Now, live video feed from the Old Mosque of Moscow is available on the website:
Live broadcast from the mosque
This live broadcast and records from sermons and lectures are available on the Historical Mosque's YouTube channel:
Channel of Moscow's Historical Mosque
---
Schedule of prayers, Moscow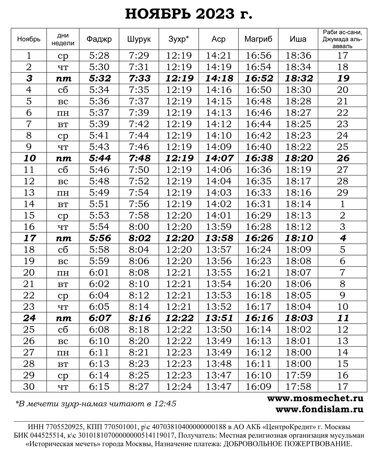 ---
The Historical Mosque's is now in the web
Link to the Historical Mosque of Moscow's Google+ account: Google+
Vkontakte Community of the Historical Mosque of Moscow: The Historical Mosque of Moscow Vkontakte
---
Educational courses on Fundamentals of Islam,
classical (Quranic) Arabic, reciting of Quran.
From October through April the Historical (Old) Mosque conducts educational courses on Fundamentals of Islam, classic Arabic language, reading of Quran.